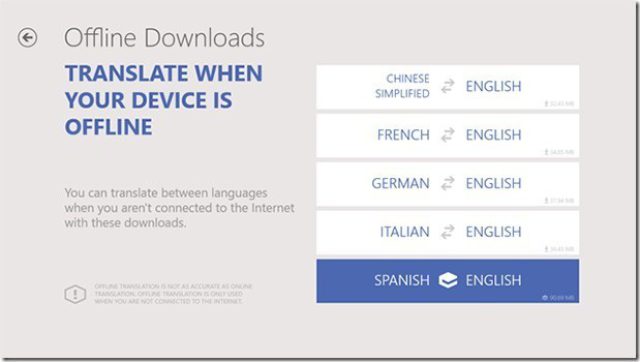 Microsoft just announced the release of the Bing Translator app for Windows 8 and Windows RT today. The app has been available on the Windows Phone for some time, according to a post on Bing's official Blog, the program was specifically built "from the ground up" for Windows 8. It's nice to see that all of the mobile features like the camera-based translations to deliver "augmented reality" translation for seven input languages, is also available on Windows 8. The Bing Translator supports a total of 40 languages, and is available in for offline use, just by downloading the language packs. The offline mode allows you to use the app without a WiFi connection, the app is currently available for download in the Windows Store, see the video below for the app in action.
Features
Text translation – Type and translate text into more than 40 languages.
Camera translation – Translate signs, menus, newspapers, or any printed text with your device's camera in an instant.
Text to speech – Hear translations spoken with a native speaker's accent.
Offline translation – Translate when you are not connected to the Internet and when you want to avoid expensive data roaming charges by using downloadable offline language packs.
Translate from anywhere – Translate text from other Windows Store apps using the Share charm. Just select and share
Multitask with Snap View – Translate quickly while doing other tasks by snapping Bing Translator to the right or left of your screen.
Source: Windows Store, Bing Search Blog