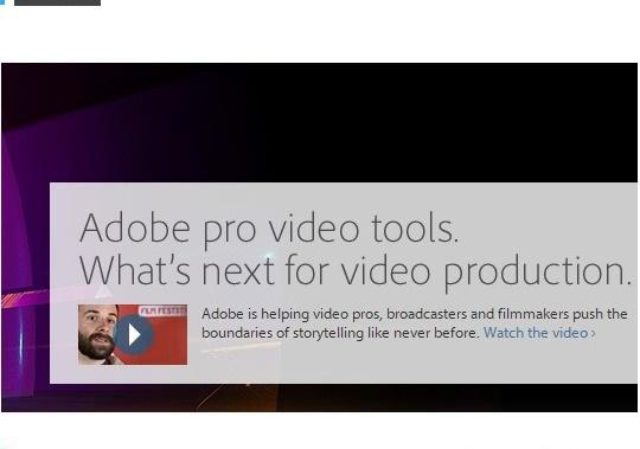 In a recent press release, AMD announced  that, the company and Adobe, are Collaborating on Upcoming Version of Adobe Premiere Pro Software. AMD confirmed that the collaboration with Adobe Systems Incorporated to deliver OpenCL hardware-accelerated video editing was the first time ever on the "Microsoft Windows platform with the next version of Adobe® Premiere® Pro." The New release for Adobe Premiere Pro will use the computing power of AMD APU and graphics products to achieve up to 4.3X faster exports. Adobe Creative Cloud users are to gain immediate access to AMD hardware-accelerated features and functionality when the latest Adobe video production software would be release. There're no set date for the release of the of the new software "Adobe is previewing the next generation of its professional video and audio products," and "more information about Adobe's upcoming new video tools will be unveiled at Adobe MAX, The Creativity Conference, May 4-8 in Los Angeles, Calif."
[wpspoiler name="Press Release" ]
AMD and Adobe Collaborate on Upcoming Version of Adobe Premiere Pro Software to Enable Breakthrough Video Editing Performance through Open Standards
AMD A-Series APU, Radeon and FirePro graphics technology work seamlessly with next version of Adobe Premiere Pro software to provide real-time editing, effects, compositing and color grading

SUNNYVALE, Calif. —4/5/2013 
AMD
 (NYSE: AMD) today announced its collaboration with Adobe Systems Incorporated to deliver OpenCL™ hardware-accelerated video editing for the first time on the Microsoft Windows platform with the next version of Adobe® Premiere® Pro. This collaboration further demonstrates AMD's commitment to enabling partner ecosystems with cross-platform open standards, empowering Adobe to amplify the editing experience for creative professionals everywhere. The combination of expanded support for open standards and the 
Adobe Creative Cloud™
 brings unmatched access to the most up-to-date and powerful professional post-production tools anywhere.
The next version of Adobe Premiere Pro has been optimized to take full advantage of a wider range of AMD professional- and consumer-class graphics processing units (GPUs) and accelerated processing units (APUs), delivering  unprecedented real-time editing with formats from DV to HD and 4K Ultra HD at high frame rates. Now Adobe and AMD extend this advanced OpenCL functionality to creative professionals running the Windows operating system. The expanded support on Windows and OSX complements the already popular Mac OSX OpenCL support available on Adobe Premiere Pro.
"AMD and Adobe are dedicated to delivering professional- and consumer-level solutions that support open standards and provide artists everywhere with the ability to create at the speed of thought," said Neal Robison, senior director, Software Alliances at AMD. "Through AMD's strong relationship with Adobe, video editors no longer have to wait for the rendering of edits, effects and composites ─ most everything can now be achieved at high-quality in real-time."
Coupling AMD graphics hardware with the latest Adobe software, video professionals and prosumers alike will benefit from seamless, high-quality feedback. The next version of Adobe  Premiere Pro with support for OpenCL harnesses the power of discrete AMD graphics cards and AMD A-Series APU's to enable real-time edits, application of dozens of effects, support for the new Lumetri deep-color engine, and multi-stream and mixed format accelerated workflows with AMD Eyefinity multi-display technology.
From its APUs and notebook graphics cards to professional workstation cards like the AMD FirePro™ W-series, AMD technology works transparently with Adobe Premiere Pro to provide scalable GPU-accelerated editing solutions for inspired prosumers and creative professionals everywhere. The software is accelerated by OpenCL to efficiently harness the compute power of AMD APU and graphics products and achieve up to 4.3X faster exports from a source format with effects to a preferred final destination format for quick and easy distribution and publishing1.
"We're all about creating the best software possible, and at NAB we're revealing some incredible enhancements to our video editing tools," said Simon Williams, director of strategic relations at Adobe. "Our customers require powerful systems that enable them to work quickly and efficiently. While we already support OpenCL on the Mac, today's announcement gives creative professionals the opportunity to tap into the massive compute resources of AMD APUs and GPUs on Windows-based PCs, broadening the type of accelerated experience they can have with our upcoming software."
Video professionals and enthusiasts utilizing the Adobe Creative Cloud gain a competitive advantage through immediate access to AMD hardware-accelerated features and functionality with the latest Adobe video production software. Adobe Creative Cloud offers an end-to-end, cross-platform tool kit with industry-leading software seamlessly integrated with all the hardware needed to create, collaborate and stay connected.
At NAB, Adobe is previewing the next generation of its professional video and audio products (NAB Booth SL3910.) Learn more about the next versions of Adobe's pro video and audio tools at: 
www.adobe.com/go/nab_reveal
. More information about Adobe's upcoming new video tools will be unveiled at Adobe MAX, The Creativity Conference, May 4-8 in Los Angeles, Calif.
[/wpspoiler]
Source: AMD