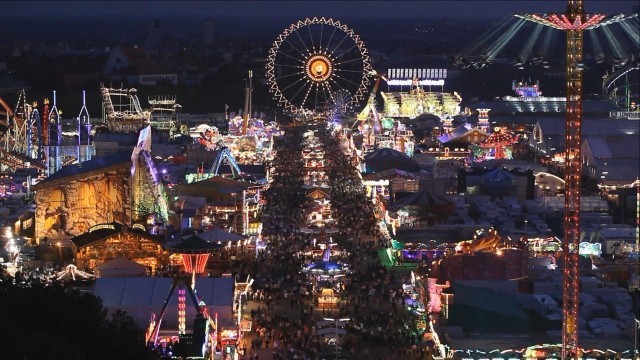 Every year, more than six million visitors from all over the world are fascinated by the matchless festival setting of Munich's Oktoberfest. Yet, keeping the world's largest beer festival and funfair brightly lit in all its glory requires 2.7 million kilowatt-hours (kWh) of electricity -equivalent to the total annual consumption of 1,100 private German households. So, where is all this electric power being generated? The answer is, for example, far out to sea – offshore. There, innovative business enterprises are currently erecting components important to the future power supply of all of Germany.

Munich's ambitious goals for combating climate change and protecting the environment make the city one of the driving pioneers of this trend: By 2025, Bavaria's capital city aims to be the world's first city of over a million inhabitants that covers its entire electricity demand with its own generating units powered exclusively by regenerative energy sources. Every year, Munich's 800,000 private households, the industries settled there, and the city's streetcar and subway systems together consume some 7.5 billion kWh of power. The city utility Stadtwerke München (SWM), Germany's largest municipal energy provider, is thus pursuing a truly trailblazing course with its "SWM Renewable Energies Expansion Campaign": "We began by implementing measures in Munich and its immediate vicinity. It quickly became clear, however, that this was not enough, and that we had to change our thinking to encompass trans-regional and Europeanwide
solutions,' explains Dr. Florian Bieberbach, Chief Executive Officer of SWM. "We furthermore came to the realization that wind power is the form of renewable energy best suited to meeting our needs. Offshore wind power in particular plays a major role because individual projects can enable us to make giant strides towards reaching our goal," notes Bieberbach further.
This is why Stadtwerke München and the Swedish power company Vattenfall contracted technology giant Siemens to supply, install and commission a total of 80 wind turbines for the DanTysk offshore wind farm. Work to erect these 80 wind turbines for the DanTysk project was completed in the summer of 2014. These units now stand exactly where regenerative energy can be optimally utilized on a major scale. After all, electricity does not have to be generated in directly the same spot where it is consumed, rather it is first simply fed into the cross-regional high-voltage grid. So while the power generated by DanTysk is not transported directly from the North Sea to Munich's citizens, it contributes significantly to the Germany's energy turnaround and Munich's Renewable Energies Expansion Campaign.
· Site: 70 kilometers west of the German island of Sylt
· Area: 70 square kilometers
· Water depth: 21 to 32 meters
· Turbines: 80 Siemens wind turbines of the 3.6-megawatt class
· Foundations: monopiles
· Rotor diameter: 120 meters
· Hub height: 88 meters
· Total height: 148 meters
· Total electrical generating capacity: 288 megawatts
· Production: 1.3 billion kWh per year (enough to supply up to 400,000 households given an average consumption rate of 3,500 KWh per year)
· Start of construction: 2013
· Scheduled startup: 2015
· Total investment: more than EUR 1 billion
· Joint venture partners: Vattenfall (51%) and Stadtwerke München (49%)