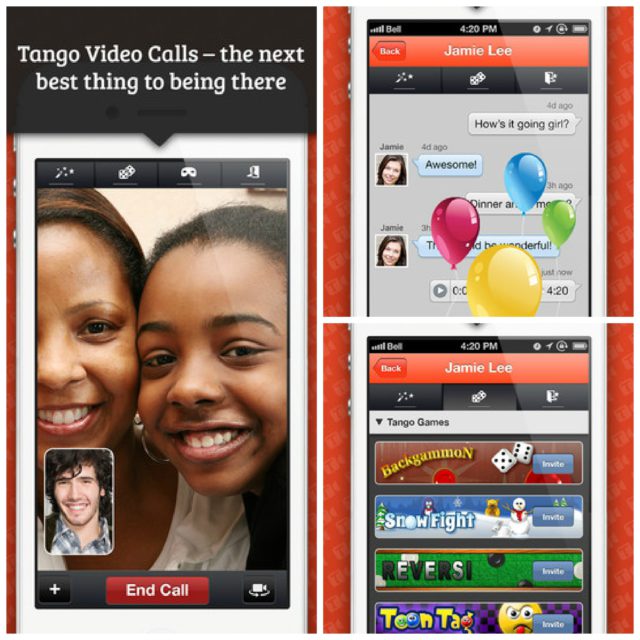 Tango updated it's app allowing users to take advantage of the entire screen, and also made intractable contents available to be used during calls and texts. The update also comes  with full iPad support and availability in iPad AppStore, iOS users  can now "customize photos with filters, text and more before sending them to friends and family." If you are a tango user you could grab the update from the link below for more info, read the Press Release.
Source: Tango
[collapse title="Press Release" collapseid="UniqueID"]
March 07, 2013 09:00 ET
Tango™ Surpasses 100 Million Users and Celebrates With New Features
All-in-One Social Networking App Introduces New Optimized iPad App and Updated Design Interface That Highlights New Content Including Games and In-Call Surprises
MOUNTAIN VIEW, CA–(Marketwire – Mar 7, 2013) – Tango™, the all-in-one social networking app, announced today it had recently passed 100 million members registered across the multiple platforms and devices it supports. Tango's mission is to connect people with the most rich and meaningful experiences, and to mark the occasion, the company unveiled brand new features that continue to illustrate how combining high quality communication services with compelling content helps to differentiate Tango from other services.
"I'm proud that Tango's vision of blending communication with engaging content for the mobile space has surpassed this great milestone. By including great features like games, music, animations, avatars, eCards, and photo editing, Tango has truly transformed into a true social networking app and content platform, changing the way people all over the world interact," said Uri Raz, CEO of Tango.
Tango's new updates include:
New Design Interface
Tango video calls will now take advantage of using the entire screen giving users more meaningful interactions with family and friends. In addition, the design will also surface all of the content available on Tango that can be used during calls and texts that make any communication more fun and memorable.
iPad Optimized
In combination with the new design, Tango will run on the iPad's native screen resolution and tap into the device's more powerful processor to give people high quality video calls on the full tablet screen. For the first time, Tango will be available in the iPad AppStore.
New Content Including Games and Surprises (in-call animations)
To make any Tango interaction feel more fun and engaging, the classic game Reversi is launching to bring the total to seven free games that users can play during calls on Tango. In addition, users can send new Tango Surprises, animations that play in calls or texts that bring something unique and special to the conversation.
Photo-Editing for iPhone Users
In partnership with the Aviary photo-editing app, Tango iPhone users can now customize photos with filters, text and more before sending them to friends and family.
Tango can be downloaded for free from the Google Play Store and the iTunes App Store by going to http://install.tango.me.
About Tango
Tango, the leading all-in-one social communication service, enables you to connect with friends and stay closer to family in a way that is easy, spontaneous, fun and fits the moment. Tango allows you to send free text messages, play games, and make free phone calls and video calls with those you care about. Tango works on iPhones, iPod touch, hundreds of Android phones and Windows Phone devices, as well as tablets and PCs, and provides high quality experience over 3G, 4G, and Wi-Fi. More than 100 million people in 212 countries already love using the service.
Founded in September 2009, Tango has raised over $87M from leading venture capital firms and top individual investors. Download the Tango application for free in the iTunes App Store, Google Play Store, and the Tango website, www.tango.me. Tango is based in Mountain View, California.
Learn more at http://www.tango.me/
Follow us on Twitter at http://www.twitter.com/tangome
Like us on Facebook at http://www.facebook.com/tangome
Watch us on YouTube at http://www.youtube.com/tangome
[/collapse]