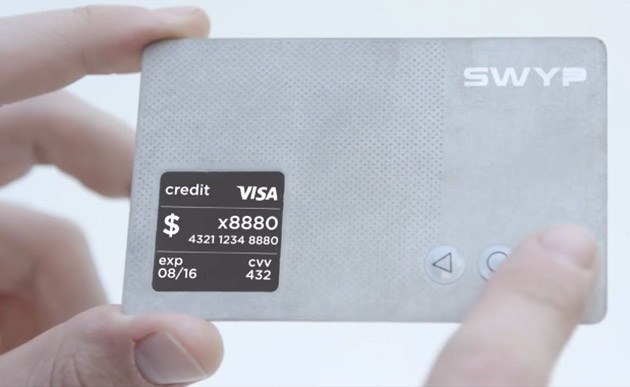 These new tech credit cards aren't quite popular as of yet but Swyp plans to up the ante and make the use of these cards a trending replacement for all of your credit, gift and loyalty cards.
Swyp is a metallic card that has a digital screen display that transforms your plastic cards into one main card. providing you with the ability to choose which card you want to use when you need it. To upload your cards to Swyp, you need to scan the metallic strips using the card reader provided (it plugs into your phone's headphone jack for ease of use). Each card's details are then stored in the Swyp smartphone app (which allows you to take pictures of receipts). The Swyp card has the ability to store up to 25 different cards.
The Swyp cards creator, Ash Dhodapkar, says that Swyp will have a rechargeable battery and a few extra features soon. Currently there are some Swyp cards that are available now for pre-order at $49, but once the full release comes (Fall 2015) you'll have to pay $99.