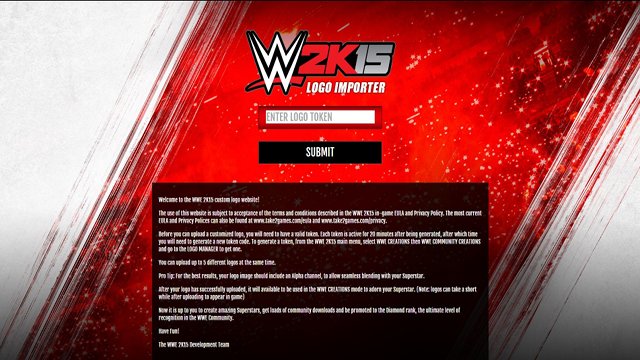 WWE 2K15 features a robust creation suite that lets players create the custom Superstar of their dreams as well as fully customize their real-world favorites.
Adding to the already numerous customization options is the ability to create and upload even more.
Say you find (or better yet, create) a particular logo or image that you want emblazoned on your Superstar's wrestling attire. How do you get that image into the game? Follow these steps:
On the WWE 2K15 main menu, go to the community creations tab and select "Logo Manager." From there you will generate a "logo token." Connect to wwe.2k.com/wwe2k15logo. Enter your logo token and you're in.
From there you can upload five images at a time to be inserted into your game. For the best results, make sure the images you are using are around 512×512 and include an Alpha channel (transparency). This will allow the logo to blend seamlessly with your Superstar once placed.
Once you've uploaded your desired images, go back to WWE 2K15 and select the "Go to my Logos" option. There you can see all of your logos available for download. Just select which logo you want to use and you are in business. You can also download the logo creations of other players to use (of which there are already thousands) though you can only have 20 custom logos stored at a time. The more players who download your uploads, your community rank increases, allowing an additional five upload slots per rank.
You can sort through the dizzying amount of logos and custom creations in-game by changing the filters between Superstars, Move-Sets and Logos, or by sorting the list according to What's Hot, Most Downloaded, Most Recent and Highest Rated. You can also search for specific keywords using the search bar.
Superstars have a limit of eight unique logos that can be placed, but you can use those eight logos as many times as you want. Once placed on a character you can change the size and positioning of the logo.
Keep in mind that while you can upload any image you please, players can flag uploads for inappropriate or obscene content. Flagged content will then be put under review by developer Visual Concepts.
Even with the depth that is offered in the details of this creation suite, there are still some limitations.
Gamers can only create 25 Superstars. There's no create-an-arena, create-a-championship or the ability to create a Diva or a storyline. Marcus Stephenson of WWE Games offers one piece of information that improves the outlook for those who want to customize members of the WWE Divas roster.
One thing to note: #WWE2K15 Divas can be edited and cloned this year on PS4 and Xbox One.

— Marcus Stephenson (@stephensonmc) November 11, 2014
Each omission will sting some portion of the WWE gaming community, but the additions—if they function as advertised—will still make the creation suite intriguing and fun.
That's all there is to it. The creation suite and upload studio give players a huge amount of freedom in crafting over-the-top custom characters or just keeping their favorite members of the WWE roster up to date, and is by far one of the best features of WWE 2K15.