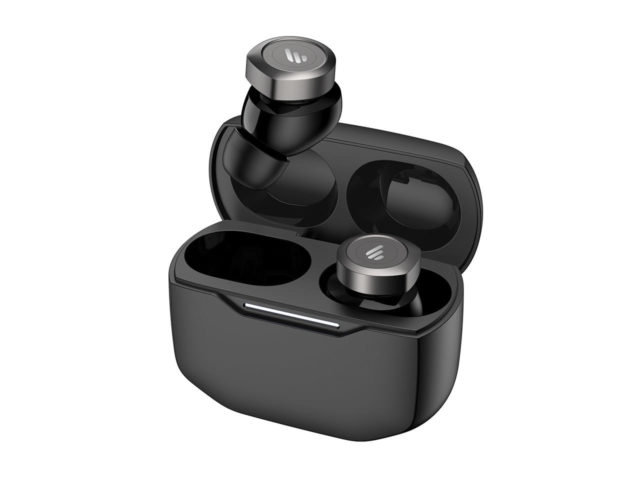 Edifier, the premium audio solutions manufacturer & designer has just announced some new wireless earbuds that feature an all-day battery, active noise cancellation & the latest Bluetooth 5.3 technology. Along with the Edifier Connect App, you can customize your listening experiences with the tap of a finger. 
Edifier's W240TN True Wireless Noise Cancellation In-Ear Headphones are unlike many other wireless earbuds. They are equipped with Dual Dynamic Drivers for full-sound immersion with a wide sound stage and a hybrid active noise canceling to boot. So even at higher volumes, these earbuds can hang with their competition. As for phone calls, users report crystal clear call feedback on both ends. This is primarily thanks to the innovative AI DNN Adaptive Call Noise Reduction technology which focuses on your voice and cancels out all other noises.
The W240TNs come in two industrial style colors – gunmetal black and a white finish. And the design inspiration is based on a piston head shape. This look is very clean and strapping. The buds come in a compact charging case that gives you 8.5 hours of listening time, which is plenty while on the go. And for those who want to keep the Edifier W240TNs with them at all times, the case provides a whopping 17 hours. For those counting that's a total of 25.5 hours, more than enough for multiple charges and multiple listening sessions to carry you into the next day. 
Bluetooth 5.3 technology is present in the W240TNs which is one of the few sub-$100 wireless earbuds with this technology. This gives the Edifier earbuds an advantage over its competition with impressively low latency and even a "Game Mode" for those times you want closer to real-time sound connectivity. 'Ambient Mode' is also provided for those times you want to listen to that latest album that dropped (DJ Khaled's God Did album or Beyonce's Renaissance album, both were recently number 1 on the Billboard Top 100 & Top 200). Now you can jam safely or be deep in that call conversation while still being aware of your surroundings. 
The Edifier W240TNs were meant to be used outside in the elements too with their robust design. With the certified IP55 rating, they are sweatproof and water resistant, so you can enjoy that workout or that jog during a drizzle and not have to worry about these wireless earbuds malfunctioning or losing signal. 
Looking to be among the first with a pair? You can pick them up now as they are available for $79.99 on Amazon.com.