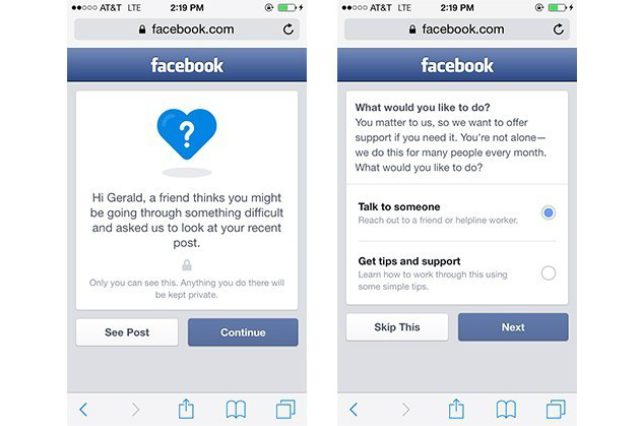 Facebook is obviously well-known for keeping billions of people connected. Even though it's mostly known for sharing news and events, it's actually the perfect platform for users to connect with close friends and family members. Facebook is aware that some users have those depression and suicidal moments. Back in 2011 they have enabled the ability for users to flag suicidal content from their peers. Now Facebook introduces new tools to boost its suicide prevention efforts.
Facebook will begin rolling out a new option this week, inside each post that lets users flag when a friend may be considering self harm. If you are concerned about a user that you are connected to, you can click on the little arrow at the top right of a status and click "Report Post." When that person logs in next, Facebook will then offer options to contact the person concerned about them, enlist the help of another friend or put them in direct contact with a suicide helpline.
"USERS WILL BE ENCOURAGED TO SPEAK WITH A MENTAL HEALTH EXPERT AT THE NATIONAL SUICIDE PREVENTION LIFELINE"
To take it even further, Facebook has even teamed up with mental health organizations Forefront, Now Matters Now, the National Suicide Prevention Lifeline and Save.org to make it easier for users to show their concern. The feature will be available initially to those in the US and Facebook says it will complete the rollout within the next couple of months. It's also vowed to improve its tools for users in other parts of the world.
If you need to talk to someone, please call the National Suicide Prevention Lifeline at 1-800-273-8255.