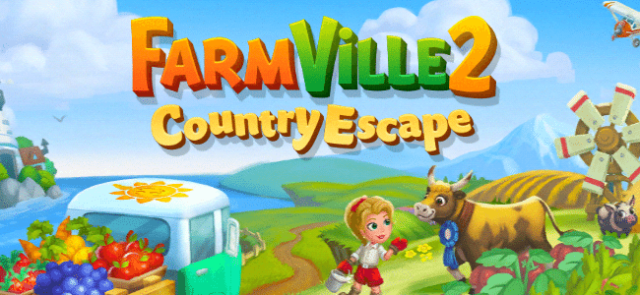 Farmville 2: Country Escape is a free to play farm simulation game from Zynga. FarmVille 2: Country Escape is for mobile devices, it was released on April 10, 2014. The game has proven to be extremely popular amongst gamers who played the web version, and even received a positive review from The New York Times. One of the coolest features of Farmville 2: Country Escape  is, can be played offline unlike other FarmVille series.
The game allows you to build your own farm, cultivate crops, take care of livestock, and harvest your crops for money. It's addictive and fun to play as the popular Facebook version. Farmville 2: Country Escape  comes with redesigned crop timers, animal interactions, touch controls and the game board to deliver the same satisfaction be it 2 minutes or 30 minutes game play session. The basic FarmVille idea is still there, as it won't be a complete departure from FarmVille 2, however. You can find familiar characters, crops, and animals throughout the game. There is even a new connected rewards system for avid FarmVille 2 players on Facebook, allowing you to transfer goods like water and sugar between your mobile and Web farms.
"A key piece of feedback we've heard is that you want more control over how you play with friends in the game," Zynga General Manager Jamie Davies wrote in a blog post. "So, in FarmVille 2: Country Escape we've left it up to you to decide how and when you want to play with friends."
The game is available in 16 languages, including English, German, French, Portuguese, Swedish, Spanish, Dutch, Norwegian, Danish, Italian, Traditional Chinese, Simplified Chinese, Turkish, Japanese, Russian, and Indonesian. The games availability for Kindle tablets would be "in the coming months."
You can watch the range of videos here – they all promote that FarmVille 2: Country Escape and check out the game on both the iOS and Android app store.
This post has been sponsored by FarmVille, but concerns our own opinion