Oblanc O'Sound Romeo Mobile In-Ear Headphones
Specs
3.5 Audio Jack
Answer/End/Play/Pause Button
Built-in Mic
Cord Adjuster
5 Ear tips (3 normal/2 flange)
Durable carry case
Physical Quality
The physical quality of the Oblance O'Sound Nx-1 Headphones are impeccable. Off the back, instead of the usual rubber cord, these headphones are lined with the finest woven material, which keep them from tangling. I've purposely rubbed the headphones together to see if they tangle and they don't! They come with five sizes of eartips so you'll easily find a comfortable pair that's perfect for you.
Audio Quality
The audio quality of the Oblanc O'Sound Nx-1 Headphones are pretty good. Once you find the right fit, the rubber ear tips offer premium noise cancellation and allow you to be surrounded by superb audio sound. Although the noise cancellation is great and the volume allows for maximum loudness, the Oblanc O'Sounds lack studio quality sound for all your favorite music. Even with using an equalizer, the bass does not pack the punch you'd expect and all the highs and lows are not well defined. I compared them to my go-to Skull Candy In-Ear headphones and found that the Oblanc O'Sounds nx-1 did not match up quite as well. They're pretty much just loud and cancel out all excessive noise and cost substantially less.
Fit
With five distinct pairs of ear tips, it's safe to say that anyone will be able to find the most comfortable fit for themselves. There are three sizes of normal ear tips and two sizes of flange ear tips. The flange ear tips are great addition to these headphones because they offer a more unique fit and enhance the noise cancellation technology.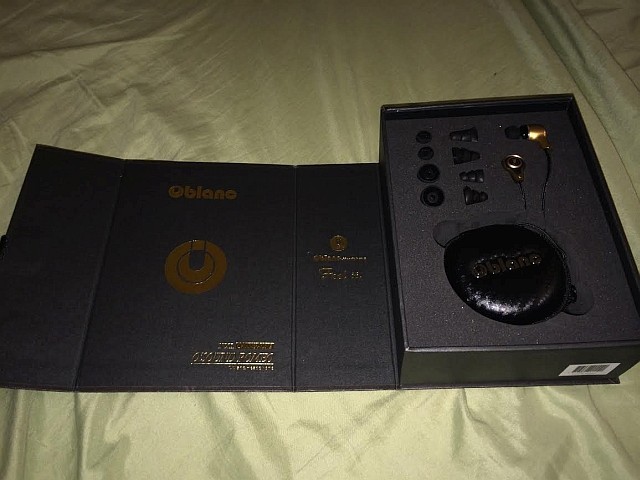 Overall Price-to-Performance
The O'Sound Romeo nx-1 Headphones are your average go-to headphones with a few neat enhancements. Although the packaging, physical quality, audio quality and fit are above average, I hate to say that they are not worth the $129.99 retail price. Save yourself the money and grab a pair of Skull Candy In-Ear Headphones. They may not have the woven cloth non-tangling cord but at last you'll truly be getting a "bang" for your buck.